The Greek National Opera presents an opera gala on September 14th at the Odeon of Herodes Atticus to honor the memory of the leading Greek soprano, Maria Callas, who died 40 years ago in Paris (September 16th, 1977).
GNO's renowned international sopranos Cellia Costea, Myrtò Papatanasiu and Christina Poulitsi will sing arias from popular operas by Verdi, Gounod, Delibes, Puccini, Giordano, Donizetti, Bellini, which Callas marked with her performances. Elias Voudouris will be conducting the GNO Orchestra.
The Maria Callas Opera Gala is organized in collaboration with the New York Times Athens Democracy Forum, an international forum for Democracy.
A FEW WORDS ABOUT MARIA CALLAS
More than any other opera artist of the 20th century, Greek diva Maria Callas dominated the opera world and forever changed its course. Endowed by nature with a dramatic soprano voice, she was fortunate to be a student of the famous Spanish coloratura soprano Elvira de Hidalgo, who, acquainted her with the Italian Romanticism's bel canto repertoire and helped her acquire its techniques, in Athens. In the early years of her career in the Greek National Opera but also later, in Italy, she performed dramatic works, by Verdi, Wagner and Puccini. In 1949, she had the chance to reveal her talent in Venice, when she had to replace, in no time, the lead singer in Bellini's extremely masterly performance of The Puritans, just a few days after she had finished performing Brunilda in Wagner's Valkyrie. She has, thus, gradually performed most of the roles of Italian Romanticism, making a decisive contribution to the revival of forgotten works by Bellini, Donizetti and Rossini. Tirelessly hardworking, she would not stop unless she believed she had reached the full extent of her potential. Maria Callas was the absolute diva. Her magnetic presence on stage and her hot temperament caused a sensation wherever she may have appeared. Her musical training, the originality of her performances –including her ability to shape characters, go deep into the part and, in fact, identify with it– and her absolutely overpowering effect on the public were unquestionable. A high priestess and a mother, an abandoned lover and a revengeful rival [Norma]; a woman in love losing her mind when forced into marriage [Lucia di Lammermoor]; a consumptive heroine of Dumas who dies inthe prime of her youth in Paris [La traviata]; a cold Chinese princess who warms up by the flame of love [Turandot]; a princess, captive in Pharaoh's court, who struggles between her love for the conqueror and the duty towards the country [Aida]; a mother who sacrifices even her children when her husband betrays her [Medea]; a jealous prima donna who kills her torturer [Tosca]; Callas could be all those women and even more. The singer who revived the forgotten repertoire of bel canto, the performer who turned the stage into a fascinating spectacle and real theater, the personality bathed in the dazzling blaze of the top, Maria Callas was opera itself.
CELLIA COSTEA
Romanian soprano, she studied music at the National University of Music, Bucharest. She received several prizes at eleven very important international vocal competitions. She has performed in prestigious venues all over the world such as Vienna State Opera, Deutsche Oper Berlin, Concertgebouw Amsterdam, Royal Opera House (Covent Garden, London), as well as in Stuttgart, Bergen, Oslo, Marseille, Liege, Barcelona, Milan, Catania, Palermo, Modena, Piacenza, Beijing, Seoul, Tokyo, Singapore and Athens (GNO, Athens Concert Hall) in such roles as Marguerite (Faust), Nedda (Pagliacci), Micaela (Carmen), Leonora (Il trovatore), Desdemona (Otello), Elisabetta (Don Carlos), Liu (Turandot), Mimi (La bohème), Tosca, Elena (Ι vespri siciliani). She has worked with leading conductors such as Seiji Osawa, Mark Elder, Askher Fisch, Eugene Kohn, Jiri Kout, Pinchas Steinberg, Julian Kovatchev, Alberto Veronesi. She was honored with the 2011 Grand Music Award of the Union of Greek Critics for Drama and Music.
MYRTÒ PAPATANASIOU
Greek soprano, she began piano and music theory at her hometown, Larissa. She studied musicology (Aristotle University, Thessaloniki), voice (Thessaloniki State Conservatory) and completed her studies under R. Coviello (Milan, "Αlexandra Trianti" scholarship). She received the "Maria Callas Best Debut Artist of the Year" (2012) singing La traviata in Dallas. She has performed at the most prestigious opera houses worldwide and has worked with famous conductors and directors (Zeffirelli, Carsen, Pizzi, McVicar). Recently she sang to great acclaim Alcina (Vienna, cond. M. Minkowski / Paris, cond. C. Rousset), Sifare (Mitridate, re di Pontus, Brussels, Paris), Amelia (Simon Boccanegra, San Carlo, Napoli, Luxembourg), Fiordiligi (Cosi fan tutte, Palais Garnier), Elvira (Don Giovanni, Barcelona, San Diego), Violetta (La traviata, Vienna, Munich, Copenhagen), Musetta (La bohème, MET), Donna Anna (Don Giovanni, Vienna, Amsterdam, St Petersburg, cond. T. Currentzis), Beethoven's Symphony No. 9 (Amsterdam, Seoul, Luxembourg, cond. Ι. Fischer). She has recorded for Sony Classic Don Giovanni (cond. T. Currentzis, BBC award), Mitridate, re di Pontus (cond. E. Haim), Semiramide (cond. Α. Zedda), Rusalka (cond. A. Fischer), Il turco in Italia and Don Giovanni (cond. J. Rhorer).
CHRISTINA POULITSI
Greek soprano, she was born in Athens. She studied at the Berlin University of Arts ("Maria Callas" and "Alexandra Trianti" scholarships) and received the first prize at the Nico Dostal International Competition (Vienna). She is acclaimed as one of the best interpreters of the Queen of the Night (Die Zauberflöte), a role she has also sung at Bolshoi Theatre, Royal Opera House (Covent Garden), Deutsche Oper Berlin, Gran Teatre del Liceu (Barcelona), Saxon State Opera (Dresden), as well as in Hamburg, Seattle, Shanghai, Dusseldorf, Turin etc. She has worked repeatedly with the Israel Philharmonic Orchestra and Zubin Mehta, who has conducted her as Gilda (Rigoletto, Maggio Musicale Fiorentino). For her performance of the same role at the GNO (2013) she won the Best young artist award by the Union of Greek Critics of Drama and Music. She has also sung Kostanze (Die Entführung aus dem Serail) and the title role in Stavinsky's Nightingale (cond. Gianandrea Noseda), Italian singer (R. Strauss' Capriccio, alongside Renee Fleming under Christian Thielemann), Contessa di Folleville (Rossini's Il Viaggio a Reims, cond. Alberto Zedda) and Queen of the Night (cond. Michele Mariotti). She is a close collaborator of the famous Australian stage director and director of the Komische Oper Berlin Barrie Kosky.
In collaboration with the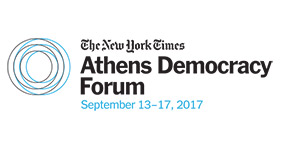 *The Athens Democracy Forum is hosted and moderated by the New York Times annually in Athens, the birthplace of democracy. The forum brings together politicians, journalists, scholars and experts from the fields of business, finance and technology to explore issues of democracy. The program includes a series of debates, interviews, lectures, as well as cultural events. This year the Athens Democracy Forum will be held on September 13-17, 2017.