The Greek Youth Symphony Orchestra consists of young Greek musicians from all over Greece but also Greek musicians who live abroad. It is hosted by the Greek National Opera, at its new facilities at the Stavros Niarchos Foundation Cultural Center. Its aim is to cover an important gap that exists in our country in comparison with the respective tradition of the rest of the European countries, mostly in the identification, mentoring, training and bringing out of young talented musicians in the symphonic and operatic repertoire, under the guidance of internationally acclaimed soloists and alongside Greek and major European orchestras.
Young musicians participate in the GYSO programmes for free. In parallel with the work of the Orchestra, special care will be taken for educational programmes for youth audiences and the accessibility of youth to its concerts, as the GYSO wishes to pass down to the young generation the quality and values championed by the relevant musical genre. In this way, it aspires to contribute to the creation of a music-loving current and of a musical platform for young musicians and youth audiences, strengthening thus the music dialogue with the young generation.
In its first season (2017/18), the GYSO gave four concerts at the Greek National Opera in the Stavros Niarchos Foundation Cultural Center, under the baton of the GYSO's founder and conductor, Dionysis Grammenos. In the 2018/19 season, the GYSO will give two concerts at the Stavros Niarchos Hall, on 15 December 2018 and 21 July 2019, and one more at the Alternative Stage on 9 March 2019.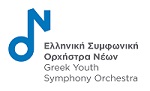 Founding donor