This production, part of a tribute to the 2021 bicentennial of the Greek Revolution, is made possible by a grant from the Stavros Niarchos Foundation (SNF) [www.SNF.org].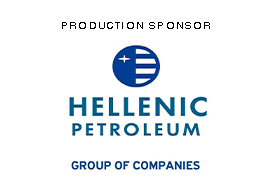 The Greek National Opera presents a new ambitious opera production for the whole family. The Magic Pillows, Eugene Trivizas' multi-awarded book that was turned into an opera with music by George Dousis and a libretto by Eugene Trivizas himself, opens at the Stavros Niarchos Hall of the Greek National Opera on 14 November for 10 unique performances, under the baton of Nicolas Vassiliou and directed by Natasha Triantafylli. This production, part of a tribute to the 2021 bicentennial of the Greek Revolution, is made possible by a grant from the Stavros Niarchos Foundation (SNF) [www.SNF.org].
In a far-off mythical land, a greedy ruler, King Glorious the Omnificent, determined to increase emerald production in his country, pens laws that cancel birthday parties, Carnival, summer holidays, all holidays, even Sundays, which, on his orders, are renamed as "Premondays" and are everything like Mondays. He also cancels funfairs and playgrounds and replaces them with prisons for those who dare to blow out birthday candles or dress up as Pierrots during Carnival or not go to school on Premondays. The citizens, forced to work even harder and run themselves into the ground in emerald mines and wire mesh knitting workshops, protest. At first King Glorious the Omnificent fails to grasp the reasons for popular discontent, until an insightful courtier explains to him that it is clearly due to their dreams: They dream they can fly, while in reality they drag themselves to the ground. That is why they feel discontented! Besides, dreams are a threat to the regime. Some little dreams, barely perceptible, elusive, tiny, grow like fire and turn the world upside down. "Only if you deprive them of their dreams" he advises him, "will you feel at peace, your Highness". Thus King Glorious the Omnificent with the help of the evil Chief Sorcerer Reptilious Serpentilious and the Supreme Commander of the Imperial Guard Baron Bulimian Lustblast tricks them and makes them sleep at night on nightmare-inducing pillows. The sinister plan seems to have the intended result. Protests stop. Emerald and wire mesh production skyrockets. King Glorious the Omnificent and his courtiers cheer. Yet they don't know that somewhere far away from the palace, in a humble school, resistance begins. A bunch of students and an inspired teacher are determined to regain their lost dreams, defying all mortal danger.
The famous, much-translated and award-winning story by Eugene Trivizas, after a long career in print and on stage, is adapted by the author himself for the first time into an opera for the whole family. The music of George Dousis, rich in emotions, wanders enjoyably through the stunning palace, the poor schools and the dark emerald mines of Delightland, breathing life into a collection of unforgettable characters, while the staging of Natasha Triantafylli reaches for the poetic kernel and liberating force of this redemptive, inexhaustible classic story.
The production, conducted by GNO conductor Nicolas Vassiliou, stars the GNO soloists
Nicolas Maraziotis, Nikos Kotenidis, Dionisios Melogiannidis, Vangelis Maniatis, George Mattheakakis, Kostis Rassidakis, Yannis Kavouras, as well as the members of the GNO Children's Chorus Dimitra Vassilakopoulou, Franzesca Vassilopoulou, Angeliki Tamvakopoulou, Marios Paschalis, Markos Levogiannis, Sophia Lachana, Irini Konstantopoulou. With a small instrumental ensemble, a vocal ensemble and the GNO Children's Chorus conducted by Konstantina Pitsiakou. Tina Tzoka designed the atmospheric set and Ioanna Tsami the colourful costumes. Movement is by Dimitra Mitropoulou and the spectacular lighting design by George Tellos.
As part of the tribute to the 200th anniversary of the Greek War of Independence, the production of The Magic Pillows celebrates the luminous power of resistance against all kinds of absolutism or obscurantist tyranny.
Author and criminologist Eugene Trivizas writes about the work: "Many and various kinds of pillows, odd and mythical, appear in my fairy tales. The wise Confusio sleeps on a pillow stuffed with the feathers of a wise owl. Nanour, the super-dwarf king of Elahistan, on a pillow with just one feather, while Dona Caries in the Secret of the Wedding Cake, to tempt little Lucia, makes her use a huge fluffy Turkish delight as a pillow. But that work of mine, in which pillows play a vital and crucial role, is called The Magic Pillows. Unlike many works for children, whose heroes are fearless knights, magnificent princes and victorious kings, the central heroes of this work are the teacher and students of a substandard school. Nowadays, we often forget that teachers, apart from imparting knowledge, also have the possibility to carve out the future and change people's lives, by offering visions, goals and dreams. And when they achieve that, they become greater heroes than the most fearless knights, magnificent princes and victorious kings.
The Magic Pillows started as a novel and was translated into several languages and adapted into a play directed by inspired theatre practitioners such as Lida Protopsalti at the Stoa Theatre and Giannis Kakleas at the National Theatre of Greece. Now it also takes the form of opera, with George Dousis breathing new life into it through his breathtaking melodies, Natasha Triantafylli adding her rose pedals to the content of the anti-nightmare pillows, and Tina Tzoka, Ioanna Tsami and George Tellos crafting fabric and light, desks and thrones, purple robes and school aprons, sun beams and emerald glows out of wire. Actually, the fact that three members of the creative team had a child brought into this world a while before the premiere is undoubtedly a good omen for the work's sustainability and longevity. I wish all those who will attend The Magic Pillows won't easily forget the teacher's words heard in the substandard school's classroom: "No matter what they take from you / you're always left with something / that nobody touches / nobody takes away from you! Your dreams remain / as your hope, your oasis, your comfort / a treasure in the midst of your woe!"
Composer and pianist George Dousis, who has composed five more operas among other things, notes: "I wandered with great pleasure through the palace's gardens and the secluded alleys of the fantastic world of Delightland. I followed a trajectory full of images, colours and smells from an exotic yet real place. I identified with every role, good or not so good, funny, serious, dark, pure, pompous, evil, majestic or humble, always with the same enthusiasm, trying to see every time through the eyes of each role Delightland, its rulers and their subjects. I struggled with both sides, I was defeated and I won, until I surrendered to a sweet redemption: the one experienced by all children every day as a solution to any challenging problem, and of which adults struggle in vain to get even a fleeting taste… The Magic Pillows is an ever-topical work. Its structure along with Eugene Trivizas' language led me with absolute safety to an almost automatic compositional process. I wrote this work in one breath experiencing rich emotions. It was a unique experience, one of those someone wishes to have."
Director Natasha Triantafylli notes: "The story of The Magic Pillows is turned into an opera for the whole family for the first time. It reminds us that we are made of the same stuff as celebration, bravery, life, which are always secretly innate to human nature and never get depleted by outer tyrannies. The stuff that makes you look up in the sky and recognise that, even though you are small, you are big! The stuff dreams are made of! This is what Dorela, Carleto and Mateo thought; this is how their teacher, Christofer, taught them to seek salvation, in the difficult times of the reign of King Glorious the Omnificent. He was that teacher that many of us once met, some sort of special unsubdued being, who constantly reminded us that, if one persists, difficulties can turn into benefits and make us stronger, and that obstacles are valuable because they train us for life-giving ascents. Indeed, at some point in your life King Glorious the Omnificent will appear in front of you, but with boldness, hope and reciprocity you can make him disappear. You only need to believe and be ready to fight. Then anything can happen. Then you see him, you face him, you beat him, and perhaps you even manage to bring him to the brighter path, the path of justice and beauty. Every time you read Eugene Trivizas to a little child, you see their eyes brimming with thoughts, their imagination with colours, and their hearts with boldness. Their little hand holds your big hand. Yet they are those who, in a while, will put their arms around their big feather pillow, will fall asleep, and will bravely fight all the threatening enemies that life will set up in their innocent feathery little minds. Dreams may be more easily produced by the little ones, but it's grown-ups who need them the most. There, if you look somewhere for the first time –diagonally behind you for example–, you will hear the music looking for you to reveal to you what you think you are not. The song that takes you on a journey to places you have forgotten you wanted to visit. The sight that gives you the world, the way you would want it to be, so that you can feel free".
The two last performances of The Magic Pillows on 18 and 19 December 2021 will be fully accessible, in collaboration with the cultural organisation liminal, with the goal of offering an unhindered audiovisual experience of the show for all. This production, part of a tribute to the 2021 bicentennial of the Greek Revolution, is made possible by a grant from the Stavros Niarchos Foundation (SNF) [www.SNF.org].
GNO Accessibility Sponsor