GNO Learning & Participation invites teenagers, aged between 14 and 18, to take part in the fourth round of the Co-OPERAtive: An intercultural and collaborative opera hub for young people
Co-OPERAtive will guide a group of thirty young people of different nationalities through a series of workshops with distinguished artists from the fields of music, theatre, and dance. Unaccompanied asylum-seeking minors and students from different schools and neighbourhoods of Attica will develop a common artistic language so as to co-create their own original work which will be presented in May 2024 at the Alternative Stage of the Greek National Opera.
The educational programme aims at bringing opera closer to young audiences and illuminating the cultural diversity of modern Athens and the importance of social cohesion, while the participants will have the chance to treat topical issues and share personal concerns through art. As part of the programme, the participants will also have the chance to attend dress rehearsals as well as performances of opera, music theatre, and ballet, discuss with professionals from the GNO, get to know up close all the stages of producing an opera, and, in the end, present their work on the GNO Alternative Stage. Foregrounding opera's cooperative nature, the programme Co-OPERAtive places cooperation at the heart of its planning and implementation, continuing the strong alliances with its partner-organisations, Evropaiki Ekfrasi and Kinoniko EKAV.
Participation in the programme does not require any specialised knowledge of music, theatre, or dance. However, any former amateur or professional relationship with the afore-mentioned arts will be taken into consideration during the evaluation process. Of key importance will be the degree of motivation, interest and availability of the candidates during the days and hours of the workshops, rehearsals and the final performance.
Applications can be submitted by Friday 6 October 2023 exclusively via the form you will find here (Greek) and here (English).
Confirmation of your participation will be sent by Tuesday 10 October.
Days & hours of workshops: Mondays, 17.30-20.30
Start: Monday 16 October 2023
Ages: 14-18
Dress rehearsals: 28, 29, 30 May 2024, 16:00-21:00, GNO Alternative Stage
Final performance: Friday 31 May 2024, 20:30, GNO Alternative Stage
Information: This email address is being protected from spambots. You need JavaScript enabled to view it., 213 088 5752 / 213 088 5755 (Monday – Friday, 10.00 – 18.00)
Terms and Conditions
Submitting an application to participate in the GNO Learning & Participation Department's workshop Co-OPERAtive does not guarantee one's acceptance to it. All applications will be evaluated by the GNO Learning & Participation Department, which will ensure the intercultural and interartistic character of the group.
The GNO Learning & Participation Department is not obliged to justify the acceptance or rejection of any application.
Participation in the Co-OPERAtive programme is free.
Participation in the workshop requires the full attendance of participants throughout the duration of the programme.
All applicants will be personally notified of their acceptance or rejection via email.
Any questions about the application process must be sent exclusively via email at This email address is being protected from spambots. You need JavaScript enabled to view it., titled "Co-OPERAtive – Question".
In cooperation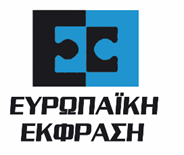 GNO Learning & Participation major donor