The Greek National Opera, in the framework of its participation in the FEDORA Platform and in collaboration with the Panteion University and the Department of Music Studies of the National and Kapodistrian University of Athens, organized a Roadshow on Tuesday 24 April 2018, at the Orchestra's Rehearsal Hall in the Stavros Niarchos Foundation Cultural Center from 15:00 to 19:00.
The Roadshow was attended by Prof. Giorgos-Michael Klimis from Panteion University and Prof. Nikos Maliaras from the University of Athens, entitled:"SPONSORSHIP: Enforcement, Charity or Business?". The students of the Department of Music Studies, who wanted to organize a concert, were supposed to seek sponsorship from the students of the Department of Communication, Media and Culture of Panteion. Arguments on both sides should be supported through live negotiation.
The workshop, which was videotaped and recorded, had three distinct parts. The first two parts were addressed to selected students of the two universities, while the final concert was open to the public.
We chose to close the conference with a concert of three acclaimed artistic associates of GNO
Part 1
Presentation of FEDORA Platform
The artistic consultant of the Greek National Opera Dr. Nikos Xanthoulis presented to the students a Ppt featuring the FEDORA platform. He analyzed the work that this platform offers in the field of opera and ballet by presenting relevant slides and explaining the problem of sponsorship in this area and the solutions proposed by FEDORA as part of a private initiative where sponsors can participate through their vote in shaping the future of the opera.
Part 2
Professor of Panteion University Giorgos Klimis analyzed the issue of negotiations at the beginning from a broad perspective and then focusing on sponsorship in relation to opera and ballet.
Case studies created an extremely dynamic atmosphere where the students in groups attempted to capture the negotiation for a sponsorship
At the Students' Concert of the Music Department of the University of Athens, the program was shaped as follow
Kioroglou Maria (Κιόρογλου Μαρία), song.
Gounod, Je veux vivre (Romeo et Juliette)
Donizetti, Convien partir (La Fille du Regiment)
Merenditi Giorgina (Μερεντίτη Τζωρτζίνα), piano
Scarlatti, Sonata in F minor Κ466/L118
Fourmouzi Ioanna (Φουρμούζη Ιωάννα), piano
Beethoven, Σονάτα αρ. 1, 3ο μέρος
Katarachia Stella (Καταραχιά Στέλλα), accordion
Monti, Czardas
Schostakovic, Valse no 2
Parastatidou Sophia (Παραστατίδου Σοφία), piano.
Chopin, Etude op. 10 no 9
Part 3
Concert with Myrsini Margariti (soprano) and Margarita Syggeniotou (mezzo-soprano) and Jannis Tsanakaliotis (piano) The concert was recorded professionally and will be presented from the 3d Program of the Public Broadcasting (ERT) on May 11 19:00 (GMT +2). From this day on it will be uploaded at the Website of the Third Program of ERT.
Programme
G. F. Handel, Tornami a vagheggiar from the opera Alcina
G. F. Handel, Ombra mai fu
W. A. Mozart, Deh vieni non tardar the opera Figaro's Wedding
Jacques Offenbach, Varcarolle
Georges Bizet, Habanera from Carmen
Franz Lehar, Meine Lippen, sie küssen so heiß", from the operetta Giuditta
Kurt Weil, Yukali
Kurt Weil, Je ne t' aime pas
Gioacchino Rossini, The cats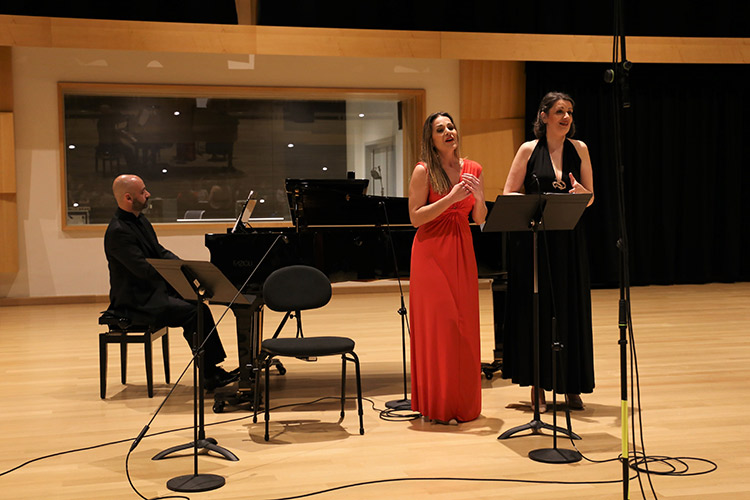 Credits φωτογραφιών: Ινώ Κλώσση