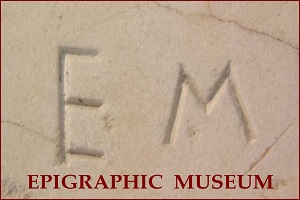 The Duo Hedi (mezzo-soprano Anastasia Kotsali and accordionist Konstantinos Zigeridis), one of the most active new chamber music ensembles, co-operates with the visual artist duo VASKOS (Vassilis Noulas and Kostas Tzimoulis) on the site-specific multiform performance titled Will Tomorrow, Ι Wonder, Be Cloudy or Clear?, which is based on songs by Tōru Takemitsu. The work, a Greek National Opera Alternative Stage production, will receive its national premiere at the atrium of the Epigraphic Museum (1 Tositsa St) on Saturday 18 and Sunday 19 June 2022, at 20.30.
Designed in the interwar period by modernist architect Patroklos Karantinos, this unique urban monument transforms into a living work of art that converses with Japanese composer Tōru Takemitsu's fascinating world.
Tōru Takemitsu's songs are the least featured aspect of his work outside the borders of his home country. Written for music theatre performances, television shows, and films from the mid-50s to the early 90s, they impress us with their hybrid, playful aesthetic, a mix of blues, jazz, musical, and Japanese influences.
There, where the East winks at the West, borders become blurred and Takemitsu's music floods us with a unique feeling of intimacy, closeness, and communication with art and society, that only great creations can trigger.
The Duo Hedi (mezzo-soprano Anastasia Kotsali and accordionist Konstantinos Zigeridis) approach the music drawing upon the composer's prolific references. American cinema, imported whiskey, Coca-Cola commercials, Walt Disney, spirituals, European pop, Kurosawa's films, Lafcadio Hearn, cherry-trees, the Second World War – all of these elements compose the creator's song universe, enchanting and often provocative. Takemitsu himself noted: "I became a musician because of war and because of its end, seeking, thus – incessantly, agonisingly – freedom."
The visual artist duo VASKOS (Vassilis Noulas and Kostas Tzimoylis) attempts to bridge the 20th-century western modernism with practices reflecting the Japanese sensitivity, through an emphasis on the concepts of folding, binding, and the harmonious arrangement of objects in space.
In a room, just as in a big city or a yard, I fold and refold the ruffles of time. I wonder whether tomorrow will bring clouds or clear skies… I unfold my thoughts, I try to listen to my mood swings, I feed the goldfish of memory in the bowl, just like those in the tank at the National Garden. They would take me for walks there, when I was a child. Now I sing about an uncertain summer. I cannot hold on to anything stable. Everything opens and closes, like images of a floating world.
The performance "Will Tomorrow, I Wonder, Be Cloudy or Clear?" is part of the GNO Alternative Stage's strand of programming titled "SUNDAY MORNINGS" that falls under the Act "FESTIVAL EVENTS OF THE GNO ALTERNATIVE STAGE" (MIS 5004053), code 2017ΕΠΑ08510107 (Axis 06 of the "ATTICA" O.P.), and is co-financed by the European Regional Development Fund (ERDF) and National Funds.