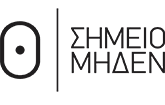 Among the most demoniac and demanding (from every angle: physical, mental, emotional…) monologues of world theatre, Samuel Beckett's Not I, written in 1972 for the actress Billie Whitelaw, puts on stage the torrential logorrhea coming out of a floating woman's Mouth (!) in the aftermath of an unspecified traumatic event, under the gaze of a mysterious, featureless Auditor.
This new approach to the iconic post-war play, a commission by the GNO Alternative Stage to the avant-garde composer Zesses Seglias, whose work focuses on the relationship between the sound and the semantics of the voice and the unification of musical and spoken language, and stage director Savvas Stroumpos, a persistent and uncompromising labourer of a theatre of research, sets itself against the limits of an intractable enigma, but is also faced with a rousing challenge.
In the two artists' bold approach, the Beckettian sonic and semantic "abyss" is rendered, rather than through a mouth, through two bodies in vocal and spatial counterpoint, highly abstract and condensed at the same time.