With the support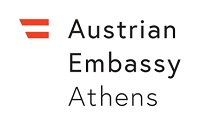 The GNO Alternative Stage participates in the commemoration of the centenary of the birth of the pioneering composer of contemporary music Anestis Logothetis with a special concert dedicated to his oeuvre. The concert will be held on the Alternative Stage of the GNO at the SNFCC on Wednesday 8 December 2021, at 20.30, in collaboration with the Faculty of Music Studies of the National and Kapodistrian University of Athens, whose symposium in memory of the composer forms the apex of the centenary celebrations.
In the first part of the concert, distinguished pianist Christos Marantos will present a fascinating programme of Anestis Logothetis' piano works. In the second part, the electroacoustic duo Rdeča Raketa (formed by composers Maja Osojnik & Matija Schellander), author Natascha Gangl, and virtual artist Nikolaos Zachariadis will present Einsame Ameisen Amnesie, an audio comics loosely based on a series of sketches featuring insects created by Anestis Logothetis between 1971 and 1975. On the occasion of the centenary of his birth, these sketches are presented to the audience for the first time and are a starting point for a new audiovisual composition.
During the concert, the GNO foyer will be hosting the installation Orpheus oder das Lachen der Götter (Orpheus or The Laughter of Gods) by the composer's daughter, visual artist Julia Logothetis.
The production is made possible by a grant from the Stavros Niarchos Foundation (SNF) [www.SNF.org] to enhance the Greek National Opera's artistic outreach
Anestis Logothetis' work (1921-1994) redefined the landscape of the post-war European musical avant-garde, synthesising in its unique way a series of concerns and preoccupations of that productive era: the border between determination and contingency in musical composition, the renegotiation of the roles of composer, performer and listener in the production process of the musical work, the limits of traditional methods of notating music and the new possibilities of sound creation afforded by the technologically novel domain of computer-assisted composition.
His graphic scores, developed at the end of the 1950s, radically expanded the traditional framework of musical notation, in fertile dialogue with analogous innovations by composers such as Earle Brown, Sylvano Bussotti and John Cage. Additionally, they spurred the field of musical notation beyond the mere registration of performing instructions, opening it up to unexpected dimensions, such as conceptual symbolisation, free association and even purely aesthetic qualities – several of Logothetis' scores ended up exhibited in galleries as autonomous objects. Furthermore, the purely acoustic dramaturgy he systematically cultivated in his numerous radio works broadened the concept of music theatre towards new, technologically informed directions.
The concert's two-part programme charts the critical period of the composer's transition from traditional methods of registering music to his novel graphical notation, culminating with his pioneering electroacoustic work.
PART I: Distinguished pianist Christos Marantos presents a fascinating programme of piano works by Anestis Logothetis. The programme features the remarkable excerpt "Anarthron a opope" from the multimedia opera Aus welchem Material ist der Stein von Sisyphos!? (1984) as well as Logothetis' early works for solo piano Triptychon (1953), Texturen (1956-1957), and Integration (1959), which represent his last piano works written in traditional musical notation (stave). These works were first performed by Christos Marantos at the Wien Modern Festival on 20 November 2021.
PART II: The electroacoustic duo Rdeča Raketa, author Natascha Gangl and visual artist Nikolaos Zachariadis present the audio comics Einsame Ameisen Amnesie, which also had its world premiere at the Wien Modern Festival in 2021 and which is based on a series of drafts of graphic scores based on the central motif of ants, created by Anestis Logothetis between 1971-1975. Here, the composer's known associative language games are activated by names of ants and lepidoptera, as well as by references to biology, cybernetics and Greek mythology, carrying the audience away into a world of explosive sonic imagination. The aesthetic values manifested in these drafts seek interpretation and further development, in a spirit of delightful experimentation and timeless creative transformation. Logothetis' graphic scores are also the basis for the visual and atmospheric content of the presentation, acquiring thus an abstract, independent form.
BIOGRAPHICAL NOTES
Anestis Logothetis
He was born of Greek parents on 27 October 1921 in Pyrgos, Eastern Rumelia, on the Black Sea (Burgas, Bulgaria today). After the Neuilly Convention, in 1934, the family moved to Thessaloniki where he graduated from the German School. In 1942, he left Greece due to the Second World War and settled in Vienna in order to study. He started as a student of engineering at the Vienna Polytechnic, but he soon turned to music and changed to composition in 1945. He studied at the Vienna Academy of Music under Alfred Uhl and Erwin Ratz (theory and composition), Hermann Schwermann (piano) and Hans Swarowsky (orchestra conducting), graduating with distinction in 1951. He attended seminars and devoted himself to composition in Rome, on a scholarship from the Austrian Cultural Institute in 1956 and 1958-59, receiving a total of ten scholarships, mainly from the Austrian government. For a number of years (1955, 1957, 1960, 1962-65), he participated in the international summer seminars for modern music in Darmstadt, where he became acquainted with such composers and musicologists as John Cage, Earle Brown and Bruno Maderna, who influenced his views on music and consequently his work. As early as 1957 he started experimenting on sound in the WDR Studio of Gottfried Michael Koenig in Cologne, which resulted in the first electroacoustic composition in Austria, Fantasmata. Following his preference for the use of innovative means for musical production, in 1981 he composed the work Wellenformen with a computer in the EMS studio in Stockholm.
Collaborations: Katarakt in 1960 with Otto Mühl, Meditation in 1961 for the work Aktion Perinetgasse by Hermann Nitsch, Identifikation with his brother Stathis Logothetis for the Europalia festival in Brussels in 1982 etc.
The total of his musical output is divided in two periods: the first, during which the composer wrote 65 works in conventional notation with various combinations of instruments and orchestrations, and the second, where his works are presented in his own "graphic" notation, a system that he had been working on since 1950, though it appears for the first time in 1959 in the drafts of his work Struktur – Textur – Spiegel – Spiel. He composed works for orchestral ensembles, electronic and multimedia music as well as many radio operas (Hörspiele) for NDR, SR, ORF, SWR and WDR. In 1974 he published his essay Zeichen als Aggregatzustände der Musik (Jugend und Volk, Vienna; republished in Anestis Logothetis Klangbild und Bildklang, Lafite, Vienna 1998).
Logothetis received the Theodor Körner Award twice (1960, 1963), and First Prize (ex æquo with Iannis Xenakis) at the Doxiadis Athens Technological Institute (ATI) music contest of 1962, sponsored by Manos Hadjidakis. He also received a Recognition Award from the City of Vienna in 1985, the Medal of Honour of the City of Vienna in 1986, an honorary award from the Austrian Federal Ministry of Education, Arts and Sports in 1989 (commission of his works Daidalia oder das Leben einer Theorie and his last long multimedia opera Aus welchem Material ist der Stein von Sisyphos!?); in 1993, he received the Floriana Award for the relation between speech and music in his work Mantratellurium.
Numerous concerts as well as exhibitions of his graphic scores have taken place since 1964 not only in Europe but also in the USA, Japan, Korea and India.
He died of cancer in Vienna on 6 January 1994.
Μaria-Dimitra Baveli
(Composer, PhD Candidate in Musicology – National and Kapodistrian University of Athens)
[English translation by Helena Grigorea]
Originally published by the Hellenic Music Centre (https://hellenicmusiccentre.com/index.php?id_category=28&controller=category&id_lang=1)
Christos Marantos Piano
Born in Athens, Greece. He received his Piano Diploma from the Hellenic Conservatory of Music & Arts and completed his Bachelor and Master degrees in piano pedagogy at the University of Music and Performing Arts Vienna with distinction. He received a scholarship from the Tokyo Foundation and has participated in masterclasses with Paul Badura-Skoda, Bruno Canino, etc. Among other collaborations, he formed a piano duo with Harald Ossberger for 14 years and they recorded a CD of Robert Schumann's piano works for four hands. As a soloist, he has performed in numerous venues in Europe and Asia and has presented in world premieres works by various composers such as Anestis Logothetis, Periklis Liakakis, Herbert Lauermann. In addition, he has curated festivals focusing on cultural and social aspects, such as the film festival ViennAthens and a tribute to Nikos Kazantzakis in Vienna. He teaches piano at the University of Performing Arts Vienna and at the Johann Sebastian Bach Music School and has given several masterclasses. In 2021, he received the distinction of Bösendorfer Artist.
Rdeča Raketa Composition
Rdeča Raketa is the duo of Maja Osojnik and Matija Schellander, Vienna-based internationally active musicians and composers experienced in abstract electroacoustic improvisation, contemporary composition and various other musical styles. Rdeča Raketa pursue sound science and electroacoustic research with fervour. Acoustic poetry is created, at times breaking with all musicality, to create sound paintings that turn listening habits and contemporary cultural codes upside down, in cinemas and concert halls, theatre spaces and installations. Rdeča Raketa combine abstract electronic sounds with heavy beats, inspired by acousmatic and industrial music, as well as hip hop. The artful interweaving of spoken and sung language (based on Osojnik's texts) coalesces with the collaged sound material. Modular synthesizers and cut-up samples mixed with manipulated CD players and recordings of acoustic instruments and field recordings, along with elaborate sound processing, ultimately create a wondrously heterogeneous mixture. Rdeča Raketa's recordings are: Old Girl, Old Boy (Mosz Rec, 2010), We Will (God Rec, 2013) and …and cannot reach the silence (Ventil Rec & Mamka Rec, 2021).
https://rdecaraketa.klingt.org/
Maja Osojnik Composition, voice, live sampling, DJ-CD players and other electronics
Freelance composer, sound artist, singer and free improvising musician who, in her multifaceted work, uses a wide variety of sonic means such as voice, Paetzold bass recorder, field recordings, CD players, radios, effect pedals, cassette players and other electronic lo-fi musical instruments of various origins. Moving within the space between analogue and digital art, virtual and real spaces, she tries to expand the sonic spectra of her chosen instruments, to deconstruct and to reassign them new connotations and roles. In her compositions, she combines her love for simple songs, experimental, electro-acoustic, abstract music, early and new music, as well as elements and forms of noise and rock. She composes music for dance, theatre, film and various ensembles and orchestras, and writes poetry that she sets to music, together with her bands. In 2018, she launched the new label Mamka Records, dedicated to releasing high-quality, self-produced recordings in limited batches. Since then, she has also been more focused on two of her great passions: printing and producing graphic sound scores. Her solo performances, works and formations, including Rdeča Raketa, ZSAMM, Broken.Heart.Collector, Maja Osojnik Band, Low Frequency Orchestra, etc have been presented at various international festivals. http://maja.klingt.org
Matija Schellander Composition, voice, modular synthesizer, computer
Born in Ludmannsdorf-Bilčovs, Austria, in 1981. He studied the double bass at the Conservatory of the City of Vienna and completed the programme for computer music at the University of Music and Performing Arts Vienna. His musical influences are diverse, ranging from musique concrète to hip hop, techno, improv, jazz, new music, early music, traditional and film music. He works with instruments, as well as field recordings, in the studio and on stage. He focuses on sound colour, sampling and an ever-moving, organic sonic image for sound as an independent, artistic and narrative, central element.
Natascha Gangl Text, voice, sampler
She is an author and writes theatre texts, experimental prose and essays, exploring language in all aggregate states: written, drawn, spoken, performed; using techniques such as montage, overwriting and anagram. Her works, some of which are multilingual, have been awarded numerous prizes and scholarships (including the Heimrad-Bäcker-Förderpreis, Heidelberger Stückemarkt Prize and the Literature Promotion Award of the city of Graz). She has published the books Wendy fährt nach Mexiko (Wendy Goes to Mexico), Ritter Publications, 2015; Das Spiel von der Einverleibung – Frei nach Unica Zürn (The Game of Incorporation – For Unica Zürn), starfruit publications, 2020.
Nikolaos Zachariadis Projection, installation
Multidisciplinary artist, designer and facilitator, based in Graz. After studying architecture, he is primarily concerned with modes of action and manipulations of sensory perception within the field of tension of image-sound-space-time, in a wide variety of constellations and aspects. He is particularly interested in the interweaving of real, imaginary and virtual space and the resulting aesthetic shifts in atmosphere. Since 1996, he has realised numerous free video and media works, sound recordings, immersive AV environments and performative sound sculptures; exhibitions, screenings and presentations in Venice, Florence, Lisbon, Skopje, São Paulo, Tromsø, Berlin, Munich, Hamburg, Innsbruck, Linz, Vienna and Graz, among others. https://n.zachariadis.at/
Julia Logothetis Installation
Born in Vienna. She studied painting at the Academy of Fine Arts Vienna under Professor Franz Elsner, mathematics and philosophy at the University of Vienna, photography, serigraphy, video and Super-8 film on a British Council Scholarship at the Goldsmiths College, London (1971-1973). She lived in New York, Bologna, Venice, Athens (1973-1976) and, for 5 months, in Kenya, Nairobi (1987-88). Since 1974, she has had exhibitions in Vienna, Venice, Athens and at the Museum of the 20th century, Vienna (1980, 1983). In 1977, she was awarded the second aquarelle prize from the Sinaide Ghi Foundation, Rome. In 2002, her video installations Er!schaute! Klänge, about Anestis Logothetis, were presented at the Museum of Art History, Vienna. Orpheus oder das Lachen der Götter (Orpheus or The Laughter of Gods), the Austrian contribution to the 300th anniversary of St Petersburg, was presented at the Shuvalov Palace, Russia (2003). Ιn 2007, her installation A Xenografic Project was presented at the Museum of Art History, Vienna.